The First Birth
Naysar was a woodcutter. He was a very religious and pious person. He used to do a lot of manual labour in the jungle. He cut wood and gave it to the King for use in the kingdom. He was very poor, but generous at heart. He heartily helped anyone he met. Every day, before he ate, he would look for someone who needed food. He would only eat after having fed such a person.
While cutting wood in the jungle, it so happened that he once saw a group of Sadhus passing by. A Sadhu is someone who has attained Self Realization. It is one of the five levels of enlightened beings (panch Parmeshthis) to whom we pay our obeisance when we recite the Navkar Mantra.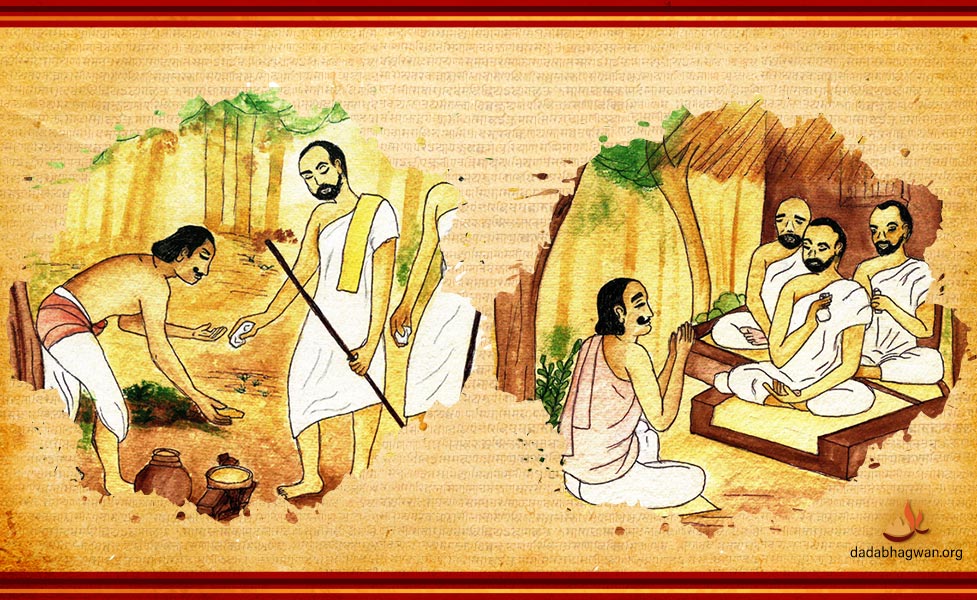 The sadhus had lost their way in the jungle. It was lunch time. So, Naysar approached them and insisted that they eat. He served the sadhus with a lot of love and devotion. In return, the sadhus taught him about true religion. Because of his noble virtues such as being respectful towards everyone, feeding the hungry with love and serving the sadhus with great devotion, Naysar attained samkit, also known as samyak darshan or Self Realization. He experienced that, "I am the permanent Soul and the mind, speech and body are all temporary." His inner vision changed, the right belief to see temporary things as temporary and permanent things as permanent was established within him.
From the moment one attains samkit, a person's worldly life ends and their journey on the path of liberation begins. Until this right vision is not attained, it does not matter how much one chants, fasts and meditates, one keeps getting caught in the vicious cycle of birth and death due to the binding of karmas. Self Realization is only possible when one finds a Self-realized person or a Gnani; so, one should always seek a Gnani. Then, one day, like Naysar, we too will be able to attain Self Realization.