The First Birth as Marubhuti, the Brother of Kamath
Marubhuti, the Soul of Parshwanath Bhagwan, took birth in the Potanapur town. There was King Arvind's rule in this town. His subjects were pleased to have him as their King due to the peace, happiness and prosperity he had established and sustained in the kingdom. King Arvind was a pious person too.
He had an intelligent, knowledgeable and good-natured minister named Vishwabhuti, who was a Brahmin by birth and hence, was his family-priest too. Vishwabhuti Purohit and his wife had two sons, Kamath and Marubhuti. Both sons were quite promising and, at very young age, had earned good name and fame from the business they established. The two of them got married to Varuna and Vasundhara respectively. Both daughters-in-law were good-looking; however, Marubhuti's wife Vasundhara was extraordinarily beautiful.
On completion of his personal responsibilities, after due consultation with King Arvind, Vishwabhuti Purohit handed over his ministerial responsibilities to his two sons and renounced the world. He left his home and took Diksha (monkhood) from a renowned Jain Saint.
Vishwabhuti's elder son Kamath was excessively indulged in sensual pleasures with a lot of women. Seeing his younger brother's beautiful wife, the lustful Kamath tried to lure her too. She was an easy prey, as her husband Marubhuti was highly reserved, religious-minded and a saintly person averse to sensory pleasures.
When Varuna came to know about the illicit relationship between her husband and her sister-in-law, she informed Marubhuti about it. However, Marubhuti, being a positive-minded person, initially did not heed her. Nevertheless, upon her insistence that she was saying the truth, he decided to check the facts by himself. Next day, Marubhuti told his elder brother that he was going out of station for some work. In the evening, in disguise of a traveller, Marubhuti came back seeking shelter for one night at Kamath's home. Not able to recognise him, Kamath took him in.
At night, Marubhuti pretended to be fast sleep. After some time, he was shocked to see the evil conduct of Kamath and Vasundhara in action. Not understanding what to do, the next morning, he ran to King Arvind and told him everything. King Arvind ordered his guards to make Kamath sit on a donkey and banish him as a punishment for his illicit conduct.
Kamath was unable to take this insult. Consequently, he bound a strong vengeance towards his brother, who according to him was responsible for his big insult. He joined a group of ascetics in the forest and began rigorous penance to the effect of taking revenge.
On the other hand, the pious Marubhuti experienced within him intense remorse that why did he complain to the King. He held himself responsible for making his elder brother go through such an insulting punishment. Out of deep attachment towards his brother, he went and pleaded before the King to call his brother back. However, the King refused to do so, as he was responsible for ensuring uniform justice to all his subjects.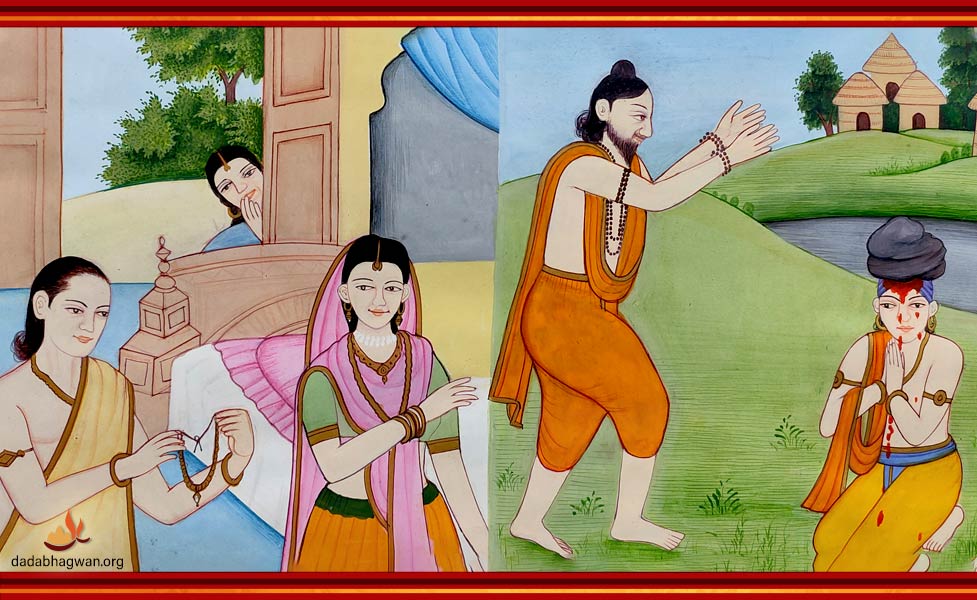 With the intent of seeking forgiveness, Marubhuti went to meet his brother in the forest and bowed down in his feet. However, Kamath, being tremendously angry with Marubhuti, picked up a big stone and threw it on Marubhuti's bowed head. Thus, he died on the spot.
Param Pujya Dada Bhagwan always advised to repent in mind for the mistakes one has made. However, he also said, we should seek forgiveness in person only from someone who is likely to respond to this act of ours favourably; or else the vengeance would increase, as in the case of Kamath. Kamath went after Marubhuti for next nine births and killed him in every birth. So, where someone has severe hatred for us, is boiling with anger and harnessing feelings of revenge; it is advisable to keep asking for forgiveness in our mind from the Soul within that person and not in person.
On the other hand, we should also bear in mind that if someone comes to us asking for pardon, we should immediately grant forgiveness with an open and gracious heart. The Gnanis, the Enlightened Beings, are naturally forgiving because they have the right understanding with which they can see that no one in this world is at fault at all; they have a flawless vision!